The Team

Lance Forman
Managing Director
Before taking over the 4th generation salmon smoking family business, Lance Forman started out as President of the Cambridge Union, qualified as a chartered accountant at Price Waterhouse and was then appointed Special Adviser to the Secretary of State for Trade and Industry.
He joined Forman's in 1994 and has developed the business, pioneering the growth in speciality British Food, through the launch of Forman & Field.
His battle with former Mayor of London over the compulsory purchase of the Forman's factory led
to the development of a new premises, venue and restaurant – Forman's Fish Island – in record breaking speed. It is the closest venue in London to the 2012 Olympic Stadium.

Lloyd Hardwick
Director of Operations
Lloyd learnt his craft under the Roux Brothers, going on to become the first Executive Chef of The Tate Modern. Lloyd's recipes and menus are legendary, original and are a taste sensation.
Most venues have to hire outside caterers and bring food to the venue. All of our catering is done in house and on site, it's some of the best event food in London.
"Formans is all about fresh, seasonal delicious food -
our reputation depends on it" - Lloyd Hardwick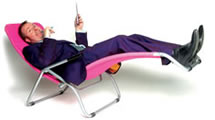 Memoir for Arthur
Our former director of events sadly passed away on 25th July 2012. Arthur was one of the most exceptional event professionals of his generation; he had an eye for the sensational and vivid attention to detail. Arthur was an industry legend and a true showman.
He will be sorely missed and long remembered by all.